agonia
textes
commentaires
membres
Sujets
atelier

Boutique en ligne
classiques
chat
photo
TopSite Littéraire
liens
liens



Textes RecommandéS
■ Tu ne sais rien
■ L'homme qui parlait aux arbres et aux oiseaux
■ Rue des Deux-ponts
■ Pleurs de rivière
■ Un seul regret
■ L'allée des iris
■ Le bouc et la rose
■ La mariée du mannequin en bois de peuplier
■ Dialogue batracien
■ Les orchidées des soirs sans lune
■ D'un lieu à l'autre ...
■ Paradoxe
■ Le creux dans le roc me regarde
■ Chanson pour la langue roumaine
■ les autres
■ Regard de cinquième saison


Romanian Spell-Checker
Poezie - Poezii
Dictionar de rime
proza, eseuri, literatura
TopSite Littéraire
noutati IT, jocuri
Romanian Trends
Laptop

Contact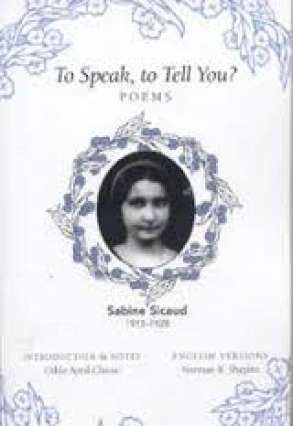 Nouveauté : la traduction anglaise des poèmes de Sabine Sicaud
article [ Livre ]


- - - - - - - - - - - - - - - - - - - - - - - - -
par Guy Rancourt [gui ]
2009-03-11 | |
Je vous signale la récente publication en anglais des poèmes de Sabine Sicaud. Voici la référence exacte :
"To Speak, to Tell You ? : Poems », par Sabine Sicaud traduit par Norman R. Shapiro, préface par Odile Ayral-Clause, Black Widow Press/Commonwealth Books, Inc., Boston, 2009.
On se rappellera qu'Odile Ayral-Clause avait publié en 1996 à Bordeaux dans "Les Dossiers d'Aquitaine" son ouvrage sur Sabine Sicaud "Le Rêve inachevé", une courte biographie et une anthologie d'une cinquantaine de poèmes de notre jeune poétesse. Cet ouvrage fut traduit en anglais par Khal Torabully en 2001 sous le titre de « The Shattered Dream ».

Le volume "To Speak, to Tell You ? : Poems" de Sabine Sicaud, 1913-1928, sera disponible à partir du 25 mars 2009 en librairies. Cette anthologie bilingue de 178 pages, présentée et annotée par Odile Ayral-Clause, présentera pour la première fois au public anglophone la plupart des poèmes de Sabine Sicaud. C'est Normand R. Shapiro, professeur distingué de Wesleyan University, Middleton, Connecticut, (USA), actuellement "Écrivain résident" à Harvard University (Adams House).On lui doit déjà plusieurs excellentes traductions d'auteurs français : Jean de La Fontaine, Georges Feydeau, Charles Baudelaire, Paul Verlaine, Jacques Prévert...
Je rappelle enfin que depuis le premier décembre 2008, vous pouvez lire tous les poèmes et une douzaine de textes qui n'apparaissent pas dans les deux recueils de poèmes de Sabine Sicaud, ainsi qu'une foule d'informations sur son œuvre poétique sur notre site de Sabine Sicaud :

http://www.sabinesicaud.com/:

J'annexe également le texte de promotion en anglais de cette anthologie que l'on retrouvera au verso de la pochette du volume.

« To Speak, to Tell You?: Poems » by Sabine Sicaud. Translated by Norman R. Shapiro. Introduction and Notes by Odile Ayral-Clause. Publisher: Black Widow Press/Commonwealth Books, Inc. (Boston)
Pub. Date: March 25, 2009
ISBN-13: 9780981808888
178 pp
Cost : 18.95 $ USD
Those who knew Sabine Sicaud (1913-1928), the precocious author of an exquisite collection of poems published by Les Cahiers de France when she was only thirteen, called her "le petit elfe" [the little elf]. There was indeed something subtly magical in her playful intelligence and in the fervent compassion she manifested for all things small and vulnerable. But Sabine too was vulnerable. Stricken with a painful illness, she died at the age of fifteen, in 1928. During the last year of her life, confined to her bed, the young adolescent expressed her suffering in poems unforgettable in their poignancy, powerful imagery, and depth of vision. A true poet, not merely a child prodigy, Sabine had reached an amazing intellectual maturity nurtured by the bountiful environment in which she lived and deepened by her struggle with suffering. Sabine's is the voice of a sensitive child attentive to nature's most fragile creations, and of an impassioned adolescent whose haunting images reveal the extent of her suffering. But it is also the cheerful voice of a happy young girl determined to "see and know everything," a girl who loved and understood life more fully than many of her elders.
Many years have passed since Sabine departed. Alive, she was feted, published, and admired as a phenomenon. After her death in 1928, she became the victim of neglect, indifference, and historical circumstances. Neither Anna de Noailles nor Marcel Prevost, both of whom praised her so highly when she was alive, thought of collecting the poems Sabine wrote during her illness, and publishing them. Fortunately her poems have been included in published anthologies, keeping her poems in circulation long enough to be fully rediscovered. Over the last thirty years her poems have been included in an increasing number of respected anthologies, her poetry has been translated into other languages, and essays on her work are appearing with greater regularity. This bilingual volume, with an extensive introduction by Odile Ayral-Clause and masterfully translated by Norman R. Shapiro, presents fully almost all of Sicaud's poetry.
Norman R. Shapiro, honored as one of the leading contemporary translators of French, is Professor of Romance Languages and Literatures at Wesleyan University and is currently "Writer in Residence" at Adams House at Harvard University. His many published volumes span the centuries, medieval to modern, and the genres: poetry, novel, and theater. Among them are Four Farces by Georges Feydeau; The Comedy of Eros: Medieval French Guides to the Art of Love; Selected Poems from Baudelaire's 'Les Fleurs du Mal'; One Hundred and One Poems of Paul Verlaine (recipient of the MLA Scaglione Award); Negritude: Black Poetry from the Africa and the Caribbean; and Creole Echoes: The Francophone Poetry of 19th-Century Louisiana. A specialist in French fable literature, he has also published Fables from Old French: Aesop's Beasts and Bumpkins and The Fabulists French: Verse Fables of Nine Centuries. His defnitive translations of La Fontaine, The Complete Fables of Jean de la Fontaine was awarded the American Translators Association's prestigious Lewis Galantiere Prize for 2008. Recent and forthcoming titles include: French Women Poets of Nine Centuries: The Distaff and the Pen, Preversities: A Jacques Prevert Sampler, and a newly re- illustrated edition of La Fontaine's Bawdy. Shapiro is a member of the Academy of American Poets.
Odile Ayral-Clause holds a Ph.D in French Literature from the University of Colorado, Boulder. Her paternal grandmother was born in the area of France that nourished Sabine's poetic talents, and Ayral-Clause has devoted much of her scholarly career to bringing the work of this too-long-neglected enfant prodige to light. She was able to glean many important facts about her brief and tragic career by interviewing the last persons to have known the Sicaud family. Among a variety of articles, her writings on Sicaud include the book, "Sabine Sicaud, le rêve inachevé", which was published in 1996 in France and gave rise to this present collection. Her most recent book is the widely acclaimed "Camile Claudel: A Life". She teaches French at California Polytechnic State University, San Luis Obispo.

| index